If you experience premature ejaculation (PE), there are creams, gels, and sprays on the market that can be used to numb the head of your penis, so that your sensation is dulled and you last longer. They're sold under names like Up All Night, Maintain, Prolong, and Sta-Hard. Condoms, particularly those that are thicker or contain topical numbing creams, are also often used for this purpose. Some guys even wear two or more condoms at once to blunt their arousal. This is only a temporary solution, however, as desensitization doesn't address the underlying causes of PE. Also, some men (or their sexual partners) may be allergic to the ingredients in these products.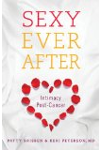 More About this Book
Sexy Ever After: Intimacy Post-Cancer
Recent studies show that 40-100 percent of men and women who have been treated for cancer have experienced some level of sexual dysfunction. Sexy Ever After: Intimacy Post-Cancer will help you...
Continue Learning about Premature Ejaculation