If you have a problem of premature ejaculation, try some of the following "self-help" tips:
1. Enjoy your partner without focusing on your sexual performance.
2. Use a strong, thicker condom that will make sensitivity lessen.
3. Try "squeeze therapy." This means as the ejaculation approaches, squeeze the head of your penis by hand. Wait patiently while the response passes, then continue on.
4. Remember that practice makes perfect! Increase the frequency of your ejaculations to gain control.
5. Ask your doctor for a referral to a sex therapist.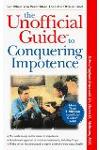 More About this Book
Unofficial Guide to Impotence
The Unofficial Guide to Conquering Impotence delivers the inside scoop on impotence: the truth about Viagra, what treatments really work, and how lifestyle changes can aid in conquering...
Continue Learning about Premature Ejaculation