Paying attention to your partner during sex can give you a good idea of what she enjoys -- and doesn't. So can honest communication. Take a moment to ask your partner her likes and dislikes and observe how she responds to different kinds of stimulation. Here are some examples to get you started.

• What turns her on and off?

• How often does she have an orgasm (through any type of stimulation)?

• How long does it take her to have an orgasm?

• What types of stimulation -- oral, manual, verbal, emotional -- get her hot and bothered?

• What makes her feel uncomfortable?

• How much foreplay (non-intercourse) does she prefer?

• How does she feel when sex doesn't meet her expectations?

• What fantasies turn her on most?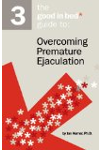 Continue Learning about Premature Ejaculation