Here's how to find and then exercise your pelvic floor, or pubococcygeus (PC), muscles:

• Tighten your rectum as if you are trying to stop from passing gas or stop the flow of urine.

• Don't perform the exercises while you're actually urinating, and don't contract the muscles in your legs, abs, or butt.

• You should feel the PC muscles pulling up and in, and your penis and testicles will move slightly as you do the exercises.

• Hold the contraction for 3 to 5 seconds, then relax for 3 to 5 seconds.
• Repeat up to 7 cycles of contracting and relaxing at a time, at least 3 times a day.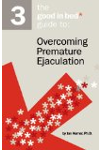 Continue Learning about Premature Ejaculation