When you slow down the process you can cool your arousal level down. This takes practice and calming the mind through deep breath and focus on other things that bring your erotic excitement down will allow you to begin the control the need to climax when you choose.
Slowing down also allows you to ask your partner through words or motions for the level of stimulation or thrusting you need that will allow you to sustain your erection for a longer period of time. Think about it like chewing your food slowly and with care so that you don't swallow a big piece of food.
Trying to hot foot it to the finish line could be making things worse for your premature ejaculation. So slow it down in bed, and try to just breathe, and enjoy every moment of what you're feeling with your partner. In fact, the more you concentrate on deep breathing, the less chance there is of your muscles tensing up, and your penis prematurely shooting its load. In fact, let your partner get on top so that you can just concentrate on syncing up with her breathing while she takes charge.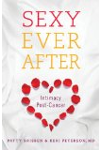 More About this Book
Sexy Ever After: Intimacy Post-Cancer
Recent studies show that 40-100 percent of men and women who have been treated for cancer have experienced some level of sexual dysfunction. Sexy Ever After: Intimacy Post-Cancer will help you...
Continue Learning about Premature Ejaculation