Answer these questions to determine whether you have chronic or acquired premature ejaculation (PE).

1. Have you had problems with PE all of your life?
2. Does PE occur during all sexual situations, including intercourse and oral or manual stimulation, and with different partners (including alone during masturbation)?
3. Are you in good health and free of problems such as prostate infection, spinal cord injury, multiple sclerosis, and other conditions known to trigger PE?
4. Do you take medications such as tranquilizers, opiates, and ephedrine or pseudoephedrine (found in some decongestants and cold medicines)?
If you answered "yes" to the first three questions and "no" to the fourth question, you likely have chronic, lifelong PE. If you answered "no" to the first two questions and "yes" to question three and/or four, you probably have acquired PE.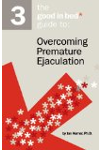 Continue Learning about Premature Ejaculation