The ideal woman for a guy with premature ejaculation (PE)...

• Is open to having an orgasm through oral, manual, or other types of stimulation besides intercourse

• Doesn't fake an orgasm -- faking only builds anger and resentment

• Doesn't always tell you "it's okay" when it isn't

• Understands that you need sex to happen in a certain way to manage your PE

• Is happy to receive oral sex

• Understands that your PE isn't a sign of passion or selfishness or is otherwise related to your attraction to her

• Doesn't require a lot of sexual novelty. (Novelty stimulates dopamine transmission, which enhances sexual excitement and arousal.)

• Doesn't get frustrated or angry when you ejaculate too soon

• Isn't fixated on simultaneous orgasms

• Can communicate with you about your PE

If your partner doesn't have all these attributes right now, don't despair! As long as she's open to talking about PE, she may be able to adjust her expectations and work with you to achieve a healthy sexual relationship that's satisfying to both of you.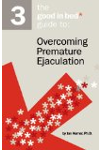 Continue Learning about Premature Ejaculation