A selective serotonin reuptake inhibitor (SSRI) can boost your sexual confidence and give you a base from which to build a comprehensive plan for tackling premature ejaculation (PE). Medication alone won't "cure" your PE, so it's hard to become too dependent on it or to use it like a crutch. When you view it that way, taking a pill isn't a sign of weakness or laziness. It's just one more tool in your PE arsenal. An SSRI may also have other positive effects, such as helping you cope with PE-related anxieties and depression that may have seeped into other aspects of your life. Many men with PE are depressed and anxious, and so an SSRI has the double benefit of helping to delay ejaculation and helping ease overall anxiety and depression.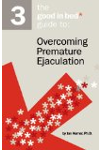 Delayed ejaculation is a common, known side effect of anti-depressive medications, especially those classified as Selective Serotonin Reuptake Inhibitors (SSRIs).
During the past decade, considerable experience has been gained in using them to actually treat premature ejaculation (PE). Various doses and dosing regimens of the SSRIs have been evaluated for efficacy and safety in studies to treat PE. Some studies have employed continuous daily dosing while others use a situational dosing regimen whereby the medication is only taken prior to sexual activity. None of the medical therapies currently employed in the management of PE have been approved by the U.S. Food and Drug Administration (FDA) for this specific indication.
Continue Learning about Premature Ejaculation