Antidepressants have been used to treat premature ejaculation (PE).
Neurotransmitters (chemical messengers) serotonin and dopamine help regulate the ejaculation process. Serotonin increases your ejaculatory threshold and delays ejaculation and orgasm while dopamine decreases them. You need the proper balance of both neurotransmitters for optimal sexual function. Men with PE have been shown to have lower levels of serotonin, which may help explain why they ejaculate too quickly.
A class of antidepressant drugs called selective serotonin reuptake inhibitors, or SSRIs, increases levels of serotonin. Because higher amounts of serotonin can increase ejaculatory threshold, they are sometimes prescribed off-label by doctors to treat PE.
The bottom line: It's true that SSRIs increase intravaginal ejaculatory latency time (IELT), the length of time a guy can last during intercourse before ejaculating. Sounds impressive, but it may not be. Think about it: If your IELT now is 30 seconds, doubling that still only amounts to 60 seconds. It's a difference, but not always a drastic one. You'll need a doctor's prescription for SSRIs, which have a range of possible side effects, including weight gain, headaches, and nervousness. And if you stop taking SSRIs, you can expect to return to your original IELT.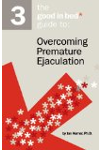 Continue Learning about Premature Ejaculation