Feminist lesbian sex therapist Susan Iasenza suggests reframing the issue from "desire" for sex to "willingness" to have sex. We're a highly social species, females in particular, and it's totally legitimate to start sex because your partner is interested, even if you're not particularly horny. So first communicate with your partner that this is a characteristic of your sexuality, to help reassure him or her that you find them attractive. And then try setting a standard for yourself, like once a week you'll initiate at a time when you're willing to have sex, even if your body isn't longing for it. Another possibility is organizing nights when you're not allowed to have sex; you're only allowed to touch non-genitally, for mutual pleasure. This wakes up your sensations without creating undue pressure to want sex. (Pressure to want sex makes you not want sex, FYI.) Finally, you can increase the amount of non-initiating physical affection in your relationship. If you have more physical affection, more trust, more caring, less worry and stress, and less performance pressure, you'll actually start to respond more readily and have more instances of spontaneous desire. Untangling the knots of sexual dynamics in a relationship takes time, patience, and practice, but consistently using these strategies will put you on the right track.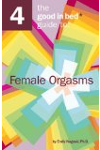 More About this Book
The Good in Bed Guide to Female Orgasms
Want to learn how to achieve 487 different kinds of orgasms?If so, you're reading the wrong guidebook. Despite what many in the media would have you believe, there's no such thing as a rainbow...
Continue Learning about Sex Drive (Libido)