A woman's genitals might respond to anything sexually relevant (lesbian sex, gay sex, heterosexual sex, monkeys having sex), while men's genitals respond to the thing that they're oriented toward -- women or men having sex with men, depending. For women, genital is not a measure of desire. Just because she's wet and/or swollen doesn't mean she's interested, it just means her body has prepared itself for a potential sexual situation. Why? Who knows, really. It seems likely that women's bodies respond to a wide array of sexually relevant stimuli because penetrative sex is high risk for females.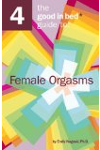 More About this Book
The Good in Bed Guide to Female Orgasms
Want to learn how to achieve 487 different kinds of orgasms?If so, you're reading the wrong guidebook. Despite what many in the media would have you believe, there's no such thing as a rainbow...
Continue Learning about Sex and Relationships