The important thing about vibrators is the intensity of stimulation they provide -- far more stimulation than you can get organically. For women who take longer to orgasm than they want (on average, 10 to 30 minutes, with wide variability, from 2 minutes to an hour-plus), or who have difficulty orgasming from oral, manual, or penetrative sex, a vibrator can provide more stimulation and give you more control -- and it will never get frustrated, bored, or impatient. You cannot become "addicted" to your vibrator. You can certainly get used to needing only a few minutes to orgasm, and so when you go for orgasm without the toy, you might feel like it's taking ages, when really it's just taking as long as it always did before you had the vibrator. But using one will not make it impossible for you to orgasm through a different means.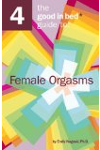 More About this Book
The Good in Bed Guide to Female Orgasms
Want to learn how to achieve 487 different kinds of orgasms?If so, you're reading the wrong guidebook. Despite what many in the media would have you believe, there's no such thing as a rainbow...
Continue Learning about Sex and Relationships