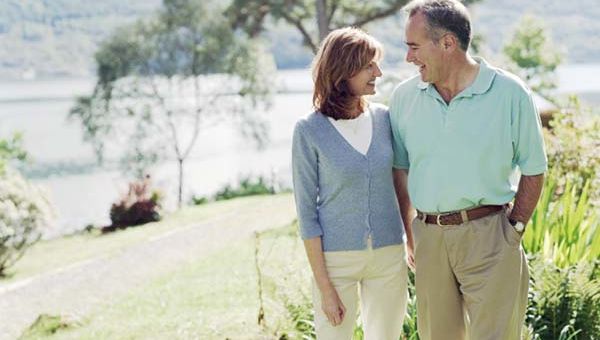 Best Cities for a Happy Marriage 2012
Find out which towns boast the best marriages.
1 / 12

Happy Couples Live Younger

Want to enjoy life more, stress less, and tackle a major risk factor for heart disease? Keep your marriage happy. A long-term, loving relationship can make your RealAge as much as 2.5 years younger if you're a woman and 4.2 years younger if you're a man. That's because happily married men and women are less depressed, less anxious, and less psychologically distressed than single, divorced, or widowed Americans. That's why we considered marriage in the RealAge 2012 Youngest & Oldest Cities in America Report. 2 / 12

The Health Benefits of a Happy Marriage

One big benefit of a happy marriage is you tend to keep each other in line. You encourage good behaviors, such as going to see the doctor, and discourage wild and crazy ones (e.g., smoking, drinking too much, eating poorly) in one another. You also give each other emotional support through good times and bad, in sickness and in health, which makes your bodies run better and boosts your overall health. Plus, you often laugh together, which is good for your body and soul. 3 / 12

1. Salt Lake City

Temple Square is the place to get married in Salt Lake City. During peak wedding season, the square hosts more than 80 ceremonies a day. All of this nuptial excitement must rub off on the people who live there because this capital city of Utah ranks No. 1 for happy marriages, and Salt Lake spouses must be good role models for one another because their healthy habits, such as being physically active and not smoking, made SLC the second youngest city in the overall rankings. 4 / 12

2. Greenville, SC

Lots of couples say "I do" in the romantic gardens of Falls Park on the Reedy River in downtown Greenville's Historic West End. It seems there's something about the south that keeps romance alive: Greenville is one of four Southern cities in our top 10 happily married cities. Plus, the Southern states rank among the highest for couples hearing wedding bells, according to census data, even though the number of marriages in the U.S. is at an all-time low. 5 / 12

3. Knoxville, TN

Although Knoxville couples rank third for being happily married, they need to work on their habits, since the city ranks as No. 1 oldest city overall in the U.S. As Keith Roach, MD, Chief Medical Officer of Sharecare and a co-creator of the RealAge Test, says, "Love conquers a lot of things, but not dangerously unhealthy cholesterol levels and bad habits like binge drinking and bacon double-cheeseburgers." 6 / 12

4. Cincinnati, OH

Art lovers in this Southern Ohio city often choose the Cincinnati Art Museum in scenic Eden Park for their nuptials. Taking in the museum's latest exhibit is also a great date for the many happily married couples in Cincinnati. Studies suggest that enjoying the arts can soothe anxiety, zap your risk of depression, and make you feel more satisfied with your life and relationships. However, this is another city on our list where the happy couples need to switch from drinking beer and smoking cigarettes to walking together and putting more fruits, veggies, and whole grains on their plates. 7 / 12

5. Charlotte, NC

One of HGTV's Top "20 Great Gardens" in the U.S., the Daniel Stowe Botanical Garden is a hotspot for weddings in the City of Trees. We're guessing that's where the not-so-newlyweds in the Charlotte area spend a chunk of their free time, too. If so, it could be the secret to their marital bliss. Researchers have found that spending just 5 minutes a day outside in a natural setting seriously lifts your mood and your self-esteem, which makes both you and your mate way more fun to be around.

Fighting all the time? Follow these 3 steps to a happier relationship. 8 / 12

6. Raleigh-Durham-Chapel Hill, NC

Love is in the air in the Carolinas, with Raleigh-Durham-Chapel Hill also making our list of best cities for happily married couples. The area's vibrant academic spirit (it's home to Duke University) and high employment level provide a solid backdrop for a good marriage. Seeing eye to eye on financial issues -- a leading cause of marital stress and divorce -- can go a long way toward avoiding marriage troubles. 9 / 12

7. Hartford, CT

The Mark Twain House and Museum is a historic Hartford site that just recently began hosting weddings. Perhaps the spirit of iconic writer Samuel L. Clemens inspires couples in Hartford to write down their deepest thoughts about their relationships. Research suggests that keeping a journal may help cement your bond with your partner. The simple act of focusing for a few minutes on the important things in your life helps you feel more enthusiastic or positive about them. 10 / 12

8. Kansas City, MO

The second Midwestern city on our most happily married cities list is Kansas City. Included on the National Historic Registry, The Loretto is a popular KC wedding location. The chapel of this former Catholic girls' school is a great spot for an intimate, spiritual ceremony -- and when it comes to relationships, spirituality is a powerful tool. Meditation and prayer can help slow breathing and brain activity, and reduce heart rate and blood pressure -- all of which are likely to make you feel more peaceful, joyful, and forgiving toward your spouse. 11 / 12

9. Grand Rapids, MI

When it comes to health and longevity, Grand Rapids has a lot of things working against it (e.g., high unemployment and low health insurance coverage), but happy marriages are something that's strong, which may help undo some of the damage in other areas. We're sure that some of these unions began at the gorgeous Frederik Meijer Gardens and Sculpture Park in Grand Rapids and that plenty of other happy twosomes spend time meandering the nature trails. It's important to make time to do things as a couple to rekindle love and affection. 12 / 12

10. Minneapolis-St. Paul, MN

Can you believe that nearly 6,000 couples have exchanged wedding vows at the Mall of America's Chapel of Love right outside of Minneapolis? And lots of baseball-loving couples get hitched at Target Field. These unusual venues are a good reminder to not always take things so seriously. This holds true for your love life, too. When things get tense, tap your sense of humor. Conflicts are inevitable in any marriage, but if you remember to laugh about them, it helps you work through the tension and reconnect.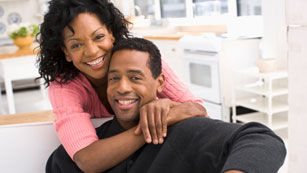 A healthy sex life and strong relationships contribute to your physical and mental health in many ways, from keeping you fit and youthful to helping you live a longer, happier life.