The simple answer to this question is no, your response to sexual stimuli is no different. Getting turned on is getting turned on, whether you are straight, gay, bi- or whatever. What turns you on is different. The object of your sexual desire is very personal and heavily related to both sexual orientation and experience. If you are a hetero female raised with nothing but brothers, the male anatomy might not be quite such a turn on because it was an every day life experience in some way. You may be a lesbian and find the male anatomy stimulating because its an unknown not because you want to have sex with a man. Sexual stimulation, while it all produces the same result, is very personal. It also does not dictate sexual behaviour. Arousal doesn't mean acting out on the impulses. We are socialized to control those impulses from an early age.
More women than men identify as bisexual, and more men than women identify as gay. Again, no one knows why this is or what it might mean for male and female human sexuality. It's also the case that women will respond (genitally) to a much wider array of sexual stimuli -- images of apes having intercourse, for example. Men respond to a relatively limited set of stimuli, depending on their sexual orientation.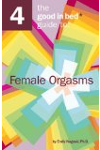 More About this Book
The Good in Bed Guide to Female Orgasms
Want to learn how to achieve 487 different kinds of orgasms?If so, you're reading the wrong guidebook. Despite what many in the media would have you believe, there's no such thing as a rainbow...
Continue Learning about Sex and Relationships