Responsive desire is when motivation to have sex begins after sexual behavior has started. As in, you're doing something else when your partner comes over and starts kissing you, and you think, "Oh, yeah! That's a good idea!" Or you and your partner set aside Friday night as sex night, and then Friday arrives and you're, like, "Oh, sex night. But I'm so tired." But you made a deal, so you get started -- and before long, you've forgotten you were tired.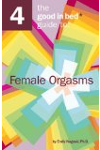 More About this Book
The Good in Bed Guide to Female Orgasms
Want to learn how to achieve 487 different kinds of orgasms?If so, you're reading the wrong guidebook. Despite what many in the media would have you believe, there's no such thing as a rainbow...
Continue Learning about Sex and Relationships