You have to make the time for sex, even when it feels like you have no time. Here's how to fit in some friskiness: pencil it in. Okay, scheduled nooky isn't exactly the epitome of spontaneity, but sometimes you've got to do what you've got to do. Planned sex is better than no sex. Add "sex" to your calendar -- and follow through. One way to do this is by planning a date night. When you limit yourself to one date night a month, you might be lured into something fantastic like a fancy five-course meal or theater tickets. But sometimes over-the-top gestures can end up sabotaging your date: You stress about getting ready and getting out of the house, and then you're cranky -- hardly the atmosphere you want!
Instead, plan low-key activities that allow you to focus on each other, like a casual dinner or even a movie night at home after your child is asleep. Get acquainted all over again. Reminisce about the things that attracted you to each other in the first place and the first time you made love. Cuddle up and talk about less stressful topics (this is not the time to discuss your mother-in-law or Junior's potty training progress). Chances are, this opportunity to reconnect with each other may naturally lead to sex. Or try a date day: Get a sitter for the morning and go back to bed -- but not to sleep! -- together.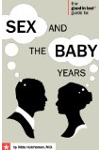 More About this Book
The Good in Bed Guide to Sex and the Baby Years
Available at a substantial discount for a limited time only, thanks to support from K-Y(R) Brand!Once you get down to the business of baby-making, the advice will pour in: books, magazines, in-laws,...
Continue Learning about Sex and Relationships