Take some of the same principles that you rely on for your kids -- play dates, toys, story time -- and use them to inject some fun back into your sex life. Here's how.
• Make a play date. Instead of a typical date night, mix things up by getting a sitter and spending an afternoon or evening at a motel. Not only can the time away from home help you reconnect as a couple, but the novelty of a new location adds a new dimension of excitement to things. Buy yourself some toys. Why should kids have all the fun? Peruse online shops together and choose toys you'll both enjoy. Vibrators, restraints, massage oils -- the options are endless. You don't have to go far from home either -- you can explore your local drug store next time you make a run for diapers and baby powder Trust me, you'll be pleasantly surprised!
• Share a story. Select (or write your own) erotica and read your favorite passages to each other before bed. Or pop in a sexy film and have your own adults-only movie night.
• Play dress up. A little role-playing (complete with costumes and wigs or simply by pretending to be strangers) can transport you out of Mommy and Daddy mode. And don't just rely on your new perso­nas. Make the time to do what you need to do to feel sexy, whether that's getting a haircut, going for a run, or shopping for a new outfit. Remember who you were before you had kids, and take some steps to get reac­quainted with that person. Your partner -- and your sex life -- will thank you.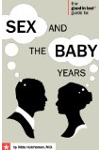 More About this Book
The Good in Bed Guide to Sex and the Baby Years
Available at a substantial discount for a limited time only, thanks to support from K-Y(R) Brand!Once you get down to the business of baby-making, the advice will pour in: books, magazines, in-laws,...
Continue Learning about Sex and Relationships