Here are some tips for fitting sex into your life if you have kids:

1) Separate beds: Yes, I've always been a fan of separate beds. They help create boundaries and the sooner your children sleep in their own beds, the sooner they can establish healthy sleep habits for life.

Although most books on children's sleep recommend that they do not sleep in your bed, I will say that I disagree in some cases. Every family's situation will be different, but some circumstances can call for parents to share the bed with a child. If your sleep is consistently disrupted based on putting your child back to bed several times each night, then it's okay to consider letting them in your bed--but for a limited time.

2) Adults-only vacations: I love this idea. But what Berman forgets to point out is in addition to the boost you get in your sex life, a vacation with your significant other can do wonders to your sleep bank as well. You can use the time to catch up on lost sleep and return to the real world ready to go again (and hopefully with a renewed sense of the importance of sleep).

3) Save your energy--don't super-parent: This one is easier said than done. We all want to be super-parents, driving them around to as many activities as possible. (Which supposedly helps them achieve more and get into good schools later on, right?) But I can see her point. All that super-parenting takes its toll. We can go to bed too tired for sex and perhaps too stressed out to fall asleep easily.

4) Agree on disciplining: I always tell patients never to argue or bring sensitive issues--whether they are about parenting or not--into the bedroom. It creates tension in a room that is supposed to be a sanctuary for sex and sleep only. So if you and your spouse don't agree on how to discipline your kids, keep that out of the bedroom.

5) Set a date night and stick to it: As with the vacation, I'm all for this. Good luck making it happen on a regular basis.


Seize the moment. Smart parents know that they've got to grab time for sex when they can find it. Set your alarm an hour earlier than usual, take a "lunch" break for an afternoon delight, share a shower together, do it during naptime, or squeeze in your own play date when your child is visiting a friend. Another benefit of the quickie? You'll likely have sex in some less-expected places, from your kitchen table to your bathroom floor to your car. Or take things further by groping each other (if not having actual intercourse) in an elevator, movie theater, locked restroom, or other public place. The change in venue and thrill of getting caught is sure to spice things up.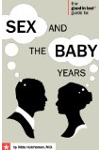 More About this Book
The Good in Bed Guide to Sex and the Baby Years
Available at a substantial discount for a limited time only, thanks to support from K-Y(R) Brand!Once you get down to the business of baby-making, the advice will pour in: books, magazines, in-laws,...
Continue Learning about Sex and Relationships