If you crave an "activity" for your date day or night, pick up a deck of cards. You won't be playing Hearts or Go Fish, though: Instead, you'll ante up for your own private version of strip poker. Split up a pack of blank index cards between you and write down your most sensitive body parts (back of knees, earlobes, left nipple, etc.) on half. On the other half jot down a method of touch you enjoy (a close-mouthed kiss, a rub, a tickle). Put all your cards in the center of the table, divided into body parts and types of touch. Play a classic game of poker with the deck of playing cards. The winner gets to choose an index card from the top of the body part pile and a card bearing a method of touch before asking the defeated one to pay up.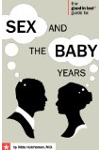 More About this Book
The Good in Bed Guide to Sex and the Baby Years
Available at a substantial discount for a limited time only, thanks to support from K-Y(R) Brand!Once you get down to the business of baby-making, the advice will pour in: books, magazines, in-laws,...
Continue Learning about Sex and Relationships