Ask for help. Often when women have a baby, we feel that we have to prove to the world that we can handle motherhood alone. I recall thinking, "I can do this! I don't need help. My baby needs me, and only me." The truth is, the baby will be just fine if left with Grandma for an afternoon so you can do something nice for yourself. "Me" time is important! Go get your hair and nails done. Take a yoga class. Take a walk in the park, alone. Buy sexy negligee, and wear it! When you feel good about yourself, you are more likely to find the energy to be kind to yourself, and that includes plea­sure. Reconnect with your inner vixen and desire for sex will follow.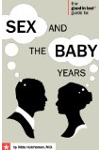 More About this Book
The Good in Bed Guide to Sex and the Baby Years
Available at a substantial discount for a limited time only, thanks to support from K-Y(R) Brand!Once you get down to the business of baby-making, the advice will pour in: books, magazines, in-laws,...
Continue Learning about Sex and Relationships