When guys are having erection problems, they want to know if it's all in their head or their body. One foolproof way of figuring it out is by monitoring your sleep. Men usually have about three to five erections while they are in dreamland, each one lasting about 30 seconds. If you're still getting pumped while you're asleep, or you wake up with a healthy erection, then you can rule out physical causes. But if something is still preventing you from getting and maintaining an erection during sex—called erectile dysfunction or ED— obviously other factors are at play. To get to the root of the problem and to know for sure that physical problems are not gumming up the works, ask your doctor about how to monitor erections after turning in for the night.
To create and maintain an erection and have good sex, your brain and your body must work together. Monitoring your erections during sleep can help determine whether the cause of your erectile dysfunction (ED) is mostly physical.
Not so long ago, when men had problems in the bedroom, most docs thought the problem was psychological. Now we know that as much as 80% of the time, a physical problem is a cause. Usually, it's your cardiovascular system. But that doesn't mean that your brain isn't involved. Depression and anxiety can interfere with the proper signals going from your brain to your woody. That's where monitoring your erections during sleep comes in. If you have an erection during the night, or wake up with one, then you are clearly physically able to have one. That's a good thing. It doesn't mean that your ED is all in your head though. You may still have a physical reason for your ED. But if you suddenly start having ED symptoms, yet still have morning erections, there's a good chance that something emotional is getting in the way of good sex. It's even more likely to be psychosomatic if you can masturbate, but still have ED problems with your partner. If psychology is getting between you and good sex, there are solutions. And they work. The first step is to find a good doc and talk to him.
Continue Learning about Sex and Relationships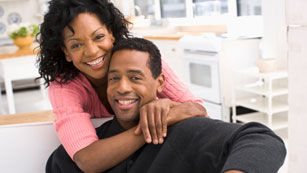 A healthy sex life and strong relationships contribute to your physical and mental health in many ways, from keeping you fit and youthful to helping you live a longer, happier life.