Medical and pharmaceutical establishments claim that there are natural and normal levels of sexual feelings, physical arousal, and orgasm.
On the basis of these claims, psychiatric and medical manuals use such terms as "disorders" and "dysfunctions" to describe our sexual feelings and responses when they differ from these norms.
In the late 1960s, sex researchers William Masters and Virginia Johnson identified phases in a sexual response cycle, which became the framework for psychiatric and medical measurement of sexual response. Failure to "achieve" at any of these levels or phases was considered a sexual disorder or female sexual dysfunction (FSD). FSD was further broken down into hypoactive (below the norm) sexual desire disorder (low or no interest in sex), female sexual arousal disorder (FSAD) (difficulty or failure to achieve arousal, during which vaginal tissues fill with blood and secrete liquids that constitute our "juiciness" or "getting wet"), and female orgasmic disorder (the failure to achieve orgasm). Another sexual dysfunction is dyspareunia, or genital pain associated with sexual intercourse.
A consortium of scholars and researchers offer excellent materials about fsd at their "new view campaign" website:http://fsd_alert.org/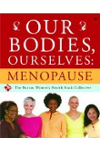 More About this Book
Our Bodies, Ourselves: Menopause
FROM THE EDITORS OF THE CLASSIC "BIBLE OF WOMEN'S HEALTH," A TRUSTWORTHY, UP-TO-DATE GUIDE TO HELP EVERY WOMAN NAVIGATE THE MENOPAUSE TRANSITION For decades, millions of women have relied on Our...
Continue Learning about Sex and Relationships