After cancer treatment, you're going to need to look for new ways to turn yourself -- and each other -- on. Schedule some alone time in which you can explore your body. Experiment with new forms of touch, and engage in some solo sex. It's so important to know how to turn yourself on and, if you can achieve orgasm, all the better! Not only will it feel good, but it will help you relax.

Then, schedule some alone time with your partner. Take turns touching each other. And don't focus immediately on the genitals. A light stroke behind the knees may be the new thing that makes you immediately moist. Or perhaps you're now turned on when he runs his fingernails lightly down your back. Take the time to learn about your new erogenous zones. This little homework assignment (which doesn't sound much like work to us) will help you crave sex again.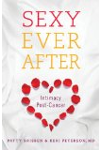 More About this Book
Sexy Ever After: Intimacy Post-Cancer
Recent studies show that 40-100 percent of men and women who have been treated for cancer have experienced some level of sexual dysfunction. Sexy Ever After: Intimacy Post-Cancer will help you...
Continue Learning about Sex and Relationships