The best prescription for your sexual organs isn't one you can find in a pharmacy. It's one you do in bed, in the shower, or on your weekend getaway. All the studies point to the fact that having sex makes you young.

By "having sex," I mean that it must be stress-free sex, so it means safe sex to protect you from STDs and sex that doesn't induce stress, like extra-marital affairs would.

What I know is that the more (for men) and higher quality (for women) orgasms you have a year, the younger you are.

If you are 55 years old, increasing the number of times you have sex from 58 times per year to 116 times has a RealAge effect of making you as much as 1.6 years younger, and having great quality sex even more than that can have an effect of up to eight years (Honey, let's get healthy!).

Although we don't know exactly how this effect works, it could be from relieving stress with sex or by decreasing cardiovascular aging with frequent high-quality sex. Maybe just as important is the therapeutic value of sex; it promotes companionship and emotional satisfaction. It just feels good-on both physical and emotional levels.

Bonus: The data also implies that if a 55-year-old has sex 700 times a year, it would make him or her 16 years younger (unfortunately, the data sample on people who fit this criteria was approximately, uh, zero).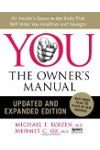 Continue Learning about Sex and Relationships