One way to get you and your partner in the mood for sex is to create intimate rituals that you can look forward to every day… rituals that make you feel closer, and all sorts of lovey dovey. Perhaps you could share a cup of coffee every morning. Give each other foot massages while watching TV in the evening. Hold hands while taking your daily walk. Anything that helps you feel that you're much more than two ships passing in the night.

You could even start your day off hot by sexing up that intimate ritual… with bathtub or shower sex. Dim the lights in the bathroom, set up some scented candles, and make sure the water in the shower is steaming hot. Then, undress each other and get cozy beneath the hot spray. Take your time soaping each other up. Allow hands to linger on breasts, inner thighs, genitalia. Give each other scalp massages as you lather up with shampoo. Trade slow, soapy hand jobs or full-body rub-downs.

If you prefer a slow soak, spread out together in the tub and just hold each other. Then, begin to rub the stresses of the day away. Gently wash each other with a shower poof. If you'd like to kick things up a notch, bring a waterproof toy into the tub with you. Run the vibe up and down your partner's thighs, or over their nipples, before heading straight to the bull's-eye.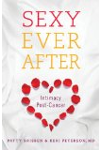 More About this Book
Sexy Ever After: Intimacy Post-Cancer
Recent studies show that 40-100 percent of men and women who have been treated for cancer have experienced some level of sexual dysfunction. Sexy Ever After: Intimacy Post-Cancer will help you...
Continue Learning about Sex and Relationships