Following cancer treatment, you may experience numbness and a lack of sensation in areas that were previously hot spots. This can be caused by surgery, or even by the nerve damage that can occur as a result of chemotherapy treatments. And while this numbness may lessen over time, in some cases, it can be irreversible.

This can be disorienting. Forms of foreplay that were previously earth-shattering may now feel meh. You may struggle with arousal. You may struggle with achieving orgasm. You may wonder to yourself: Will I ever enjoy sex again!?

These feelings will be especially overpowering the first time you have sex following your cancer treatment… or even the first few times. You'll most likely feel nervous and self-conscious, and so will your partner.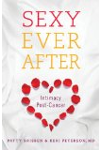 More About this Book
Sexy Ever After: Intimacy Post-Cancer
Recent studies show that 40-100 percent of men and women who have been treated for cancer have experienced some level of sexual dysfunction. Sexy Ever After: Intimacy Post-Cancer will help you...
Continue Learning about Sex and Relationships