Although some past studies have made researchers believe that frequent ejaculation could make you more at risk for prostate cancer, one major study of 30,000 men showed otherwise. The study concluded that men who ejaculated between 13 and 20 times a month decreased their risk of prostate cancer by 14 percent-and men who ejaculated more than 21 times a month decreased it by 43 percent.

There's no clear evidence showing a beneficial or harmful effect of masturbation on benign prostatic hyperplasia (BPH).

In addition, many sex therapists believe that masturbation can improve your health-by relieving stress, for instance. And you probably won't go blind either. What they do warn, though, is that masturbation should never be a substitute for sexual activity with your partner.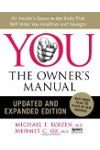 Continue Learning about Sex and Relationships