While the thought of your little one bearing witness to your coupling can be unnerving, he or she has no idea what you're up to. Your lovemaking won't traumatize your baby: Not only is sex foreign to infants, but most children have few or no memories before age two. As your child gets older, assuage your fears and prevent prying eyes by installing a lock on your bedroom door!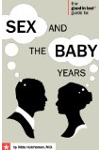 More About this Book
The Good in Bed Guide to Sex and the Baby Years
Available at a substantial discount for a limited time only, thanks to support from K-Y(R) Brand!Once you get down to the business of baby-making, the advice will pour in: books, magazines, in-laws,...
It is not uncommon for children to walk in when their parents are in the throes of passion. One way to prevent this situation is to establish boundaries related to privacy in your home when your children are young. This can include teaching them to knock on the door and wait for permission before entering. Or, if need be, lock your door so that you can focus on your partner and not worry about having your child walk into your room unannounced -- even though you may need to stop if the child calls out.

If this scenario becomes a reality, however, and your child walks in on you having sex, it is important to remain calm. Through a child's eyes, it could seem like one person is hurting the other, especially hearing moans and groans and not realizing that these sounds are about pleasure. If your child does walk in on you, gently tell your child that everything is okay, ask him to leave the room, and let him know that you will be out in a minute. Grab a robe, and explain to your child what was happening in simple terms. You can say something like, "Mommy and I were sharing special time together kissing and touching -- something grown-ups who are in love sometimes do." Then ask if he has any questions, and let your child know that when he has questions about anything, he can come to you for answers.
Continue Learning about Sex and Relationships