Many new dads turn to pornography as a way to cope with the natural, post-baby sex rut. These days, that's easier than ever, since access to the Internet means that, for most men, porn is just a click away. It's difficult to avoid and it isn't always a problem: Masturbation allows him to quickly blow off a little steam and relax, which is fine if his female partner isn't in the mood. But porn becomes an issue when it starts to take precedence over his sex life with his partner. Is he using it as a way to escape his relationship? Watch for these signs:
• Is he less interested, or no longer interested, in sex? He may be putting all his energy into porn instead of reserving it for his partner.
• Does he seem detached and disconnected during sex? He may be so used to the intense visual stimulation of porn that he can't focus on the sex he's having.
• Is it taking him longer to reach orgasm, or is he not reaching it at all? He may have developed a masturbation style that is quite different from what it feels like to have sex with a person.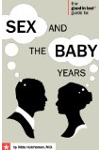 More About this Book
The Good in Bed Guide to Sex and the Baby Years
Available at a substantial discount for a limited time only, thanks to support from K-Y(R) Brand!Once you get down to the business of baby-making, the advice will pour in: books, magazines, in-laws,...
Continue Learning about Sex and Relationships