Problematic dynamics emerge when one or both partners in a relationship are responsive desire types. In a differential desire scenario, the spontaneous desire type partner may feel rejected and undesirable because they always have to initiate, and then the responsive person may start to feel pushed and will resist more. In a dual responsive desire relationship, you might end up hardly ever having sex because neither one of you wants to start. (This is a really good theory to explain the putative "lesbian bed death.") Suppose you're a responsive desire person. You now know that that's totally normal, you're not broken, and it's really okay that it doesn't often occur to you to have sex.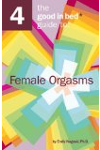 More About this Book
The Good in Bed Guide to Female Orgasms
Want to learn how to achieve 487 different kinds of orgasms?If so, you're reading the wrong guidebook. Despite what many in the media would have you believe, there's no such thing as a rainbow...
Continue Learning about Sex and Relationships