Once you're in a sex rut, it can be tricky to get out. A useful piece of advice: Just do it. Are you really too tired or busy, or are you just not making an effort to feel sexual? That's not to say you should fake it, but sometimes it's worth jumping in with both feet, even if you aren't totally in the mood. Unlike men, many women aren't even aware of their physical arousal (increased blood flow to the genitals) and don't neces­sarily experience sexual desire before they have sex. For these women, desire may not be the cause of sexual activity but the result. That means that a woman can "take one for the team" when she thinks she doesn't re­ally want sex and still end up having a great time -- and even an orgasm. You may find you're like many people and, once you give in to sex, wonder why you don't do it more often!
Even better, just as less sex equals lower libido, more sex can boost your libido. It's a little like exercise: Sure it seems like a lot of work, and it's easy to not find time to do it. But the more you do it, the better it feels. Simply put, sex begets sex. Having sex once a week can raise your testosterone levels, re-sexualize your relationship, and help you reconnect with each other. Pretty soon, you may find yourself discovering time you didn't know you had -- and using that time for sex.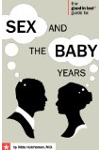 More About this Book
The Good in Bed Guide to Sex and the Baby Years
Available at a substantial discount for a limited time only, thanks to support from K-Y(R) Brand!Once you get down to the business of baby-making, the advice will pour in: books, magazines, in-laws,...
Continue Learning about Sex and Relationships