Those positions you rocked in bed before your cancer diagnosis and subsequent treatment probably don't feel quite the same. In fact, you're probably feeling a little bit lost, unsure of where to put your legs, your bum, his hand… Consider this a good reason to pick up a book of Kama Sutra positions. Trying out the ones that look most intriguing could make sex fun again. Also, depending upon what you're feeling down there, certain positions may up your chance at achieving orgasm.

One of our faves is a variation of the missionary position, in which your partner should enter you and then rock his body in order to assist you in bringing your legs pressed together within his. This position makes it possible for your outer lips and clitoris to be stimulated during penetration. Another one we love requires your partner to sit in a chair with his legs relaxed. You can then straddle him and slowly lower yourself onto his erect penis. This one is great, because it offers a maximum of upper body -- and eye -- contact. Not only that, but this position allows you to have total control over both the speed and depth of your partner's thrusting. Don't want to leave your bed? Have your partner spoon you, and then slowly enter you from behind. You can then grab ahold of your partner's hand and aid him in stimulating your clitoris.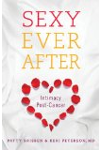 More About this Book
Sexy Ever After: Intimacy Post-Cancer
Recent studies show that 40-100 percent of men and women who have been treated for cancer have experienced some level of sexual dysfunction. Sexy Ever After: Intimacy Post-Cancer will help you...
Continue Learning about Sex and Relationships