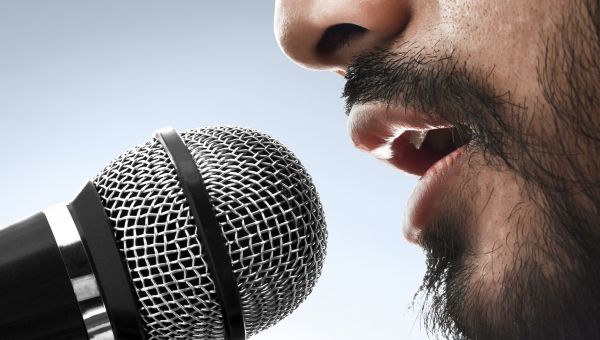 Study shows that, unlike women, men can't alter their voices to boost their sex appeal.
Tall, dark and handsome: that's the stereotypical attractive guy. And if you've got a sultry voice like Will Arnett or Barry White, even better. But can a guy fake a sexy voice to lure a mate? While putting on a seductive voice might come naturally to women, it turns out that men just don't have what it takes.
Researchers from Albright College in Reading, Pennsylvania had 20 men and 20 women each provide two voice samples -- one in their normal speaking voice and one in which they tried to sound sexy. A group of another 40 men and women judged whether the altered voices sounded any more sexually appealing. The women's altered voices were rated as more alluring than their normal voices, but that wasn't the case for men. When the men tried to sound sexy, it actually had the opposite effect, according to study author Susan Hughes, an associate professor of psychology at Albright College.
"This ability may be due to culture, and cuts across cultures and time," said Hughes, a voice perception expert. Many women know that men place a greater emphasis on looks and that a sexy voice is often linked to physical appeal, noted the researchers.
The study also looked at other ways in which our voices can influence how others perceive us. Both the men and women were able to change their voices to sound more intelligent and more dominant. Women, however, were unable to make adjustments to sound more confident. The men only sounded more confident when judged by the women. The researchers believe these findings could benefit personal interactions beyond the bedroom, such as voice coaching, public speaking and acting. The study was published in the Journal of Nonverbal Behavior.
So, Guys, What Can You Do?
Maybe your voice isn't going to get her in the mood, but a few other time-tested tips can help boost your appeal. Give these tips a go:
Set the mood with food. It may sound like a myth, but some foods can help your mate feel like romance is in the air.
Live in color. Some colors can make you seem calm, while other colors can make you seem enticing.
Get fit. When you're in shape, you're likely to have more confidence and be more appealing to a woman. And fit men tend to have fewer performance problems in the bedroom.
Medically reviewed in January 2020.