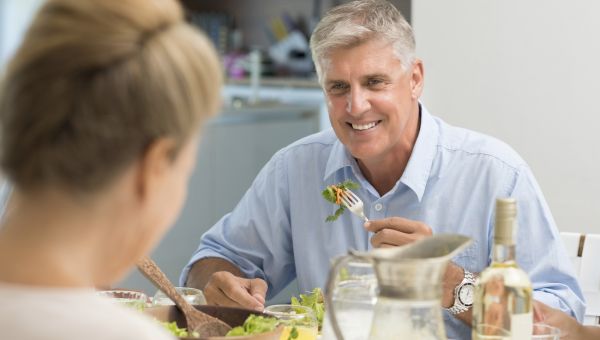 In 1974, at age 60 Jack La Lanne swam from Alcatraz Island to Fisherman's Wharf, handcuffed and shackled, towing a 1,000 pound boat. That's mucho macho! Fortunately you don't have to go to such extremes to be a healthy guy with healthy sperm. But if you're packin' even a few extra pounds (around 74% of guys in North America are overweight), your sperm count could use some help!
Related: Too much of this could be sabotaging your sperm count.
A study from Stanford University found the larger a man's waist circumference and the higher his body mass index (BMI), the lower his semen level, and therefore his sperm count. Men with a healthy BMI -- somewhere between 18.5 to 24.9 -- typically ejaculate about 3.3ml of sperm-containing semen. Men with a higher BMI produce less semen for sperm to swim in -- around 2.8ml. And you can only get so many swimmers into that size pool!
So, to increase your sperm count, here's what you need to do:
Eat 300-500 fewer calories a day. That equals about 1 American beer (145), a chocolate chip cookie (160), and one cup of sugary cereal (110) with 1/2 cup of whole milk (75). And eliminate the Five Food Felons.
Get sweatin'! The most effective, least expensive way is a walking routine with interval training. So put on your walking shoes (10,000 steps a day is your goal) and walk 100 steps a minute for 10-15 minutes; then go for 2.5 minutes of intense walking --130 steps per minute. Repeat as often as you can. Find out why strength training boosts sperm count.
Related: Try this male fertility improvement plan.
Medically reviewed in January 2020.