To effectively set a goal for yourself you actually want to set a short term goal and a long term goal. Sometimes people set themselves up for failure when their goal is too big and then they get frustrated when the changes don't come right away. I always tell my clients to set either a bi weekly or monthly goal as their short term. As for their long term you look at it like 3, 6, 9 or even 12 months down the road. Remember you didn't put this weight on overnight so don't expect the weight loss to be the same. It is the small changes that will in the end give you the big picture. Just stay focused and have a good support system with you like friends, family or even a personal trainer.
Weight loss can be elusive which is what can make it challenging. One reason it is elusive is because people have the tendency to focus on one number and they stick to that number no matter what the reality or the consequences. In order to be effective at losing weight it is important to set realistic goals. To align behind realistic goals seek out a physician's assistance in finding a weight loss 'range' (versus one set number) that is realistic for your body type. Being able to define a healthy weight loss range gives you more chance of success. For example, if you are trying to lose 50lbs it will be challenging because there's no flexibility in 50lbs. As an alternative if you can set a weight loss goal of 45-50lbs there is much more room for for success. Defining success by one number will continue to psychologically set you up to fail.
It's best to set a weight-loss goal that's more focused on the process of getting healthy than getting a quick result from an extreme diet. Resolve to walk just a few minutes more each day, or start your healthy eating program by first just reducing portion sizes; leave part of each meal on your plate.
No matter what your overall goal is, even losing a small amount of weight makes you healthier. For instance, a person who weighs 200 pounds can lose just 10 pounds (5 percent of his or her body weight) and still reduce disease risks related to obesity.
State, define, and record your goals. Make sure your goals are clearly defined. If you want to lose 20 pounds, describe how you intend to do it. Saying you want to increase your intake of fruits and vegetables, or to cut out snacking, isn't enough.
Write down what you'll do every day, including how often and for how long you'll exercise. Be sure to set realistic goals. For example, don't cut meat out of your diet if you're a true carnivore. Just reduce the amount and stick to leaner cuts. Track your progress. Write down how much weight you can realistically lose in a week and give yourself timelines.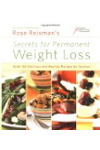 The great thing about goal setting for weight loss is that you have complete control over how aggressively you want to get to your results. If you have difficulty with compliance, and keeping up the behaviors that will help you lose weight, then you should go with a less aggressive goal such as half a pound per week. Of course, this means that it will take you more time to hit your long term goal, but the good news is that the journey might not be quite as difficult. If you want to lose half a pound per week, you will only need to create a daily deficit of 250 calories. Translated into actions, this could mean simply eating one less slice of cheese (about 100 calories) and taking a 20 minute walk (burning an additional 150 calories).
If you want your results quicker, you can go after your goal more aggressively and aim to lose two pounds per week. This simply means that your effort level will have to increase with regard to exercise, diet, or both. Losing two pounds per week would mean creating a 1,000 calorie deficit on a daily and consistent basis. In terms of daily action items, this could translate to eating 500 calories less (consuming about 150 calories less per meal) burning 500 more (over an hour of brisk walking).
At the end of the day, setting goals is up to entirely up to you. Just know that you should be honest with what you feel like you can and are willing to accomplish on a consistent basis and allow that to serve as your goal setting strategy.
Don't focus on your end weight (your long-term goal). Keep your goals specific and know what you want. Studies have shown people who know what they want are six times more likely to succeed. Remember a healthy weight loss is 1 to 2 pounds per week.
Do it one step at a time! By following the advice above, you'll find that you'll be taking 4 to 8 pounds of your current weight per month. To be even more specific, aim for losing 1 to 2 pounds from your current weight for your weekly goal.
To find your personalized ideal weight, go to: http://www.weight-loss-plans-4-you.com/healthy-weight-chart.html
It's difficult to reach the destination when you don't know where it is. Vague goals beget vague efforts.
Being specific doesn't mean, however, that you need to restrict yourself to inconsequential goals. Dream big and bold. We can break down any ambitious goal into subgoals. As president Harry Truman put it, "You can always amend a big plan, but you can never expand a little one."
Research demonstrate that how we express and measure a goal dramatically increases the success rate. Based on the new science and proven methods of setting goals, we'll get SMART: express goals in Specific, Measurable, Attainable, Relevant, and Time-specific terms.
Specific: tell me exactly where you will get in 90 days using positive terms. "A healthier, slimmer person" fails the sniff test. Give observable characteristics of behavior that are phrased in positive language. For example, "I will be exercising at least five days a week for at least 30 minutes each time."
Measurable: what's measured improves. Defining your weight goal in ways that can be measured; you'll need to log, record, or track the frequency of your goal. Give an unambiguous definition that can be read, repeated, and measured by others.
Attainable: otherwise, it's not a goal but a fantasy. Better to try to "lose and keep off 15 pounds in 90 days" than a health-compromising and nearly impossible 50 pounds.
Relevant: to you, of course, but also in terms of your life priorities. Does your immediate goal serve the pursuit of becoming the person you want to become? Or are you settling because a less ambitious goal might be easier to achieve and get other people off your back?
Time-specific: specify the time frame, typically in the next 30 to 90 days. That's long enough to reach and maintain important goals, while short enough to keep it practical and doable.
An effective way to set a weight loss goal is first, identify what you really want.
Do you want to lose 10-20 pounds or more than 100+ pounds? What are you going for fitness wise? Athleticism or overall health. Have you ever wanted to lose weight in the past and for whatever reason it didn't work? What is your schedule like in regards to free time that you can fit in exercise? Can you be held accountable alone or would you prefer a coach?
These questions need to be answered honestly before beginning a new goal. The most effective way to begin any goal is have a base of what you know. Once you know the reasons and why then you can begin to implement changes that will lead to your goal.
Be realistic. Don't expect to lose 5 pounds every week if you know you can't fit in many exercise sessions because of work or family obligations. Also, if you've never worked out before think about hiring a personal trainer who can assist you in what type of exercises and flexibility you should be doing, custom tailored to your specific needs.
Keeping an exercise log is an excellent addition to really see what you have been doing. In addition to keeping an exercise log, be sure to keep a food log of how much you ate and when. If writing down everything you eat is too much then take a picture with your phone. Who wants to take a picture of a whole sheet cake or the whole package of Oreos?
On calendars set weekly or monthly reminders to weigh in. Have inspirational stories, pictures, or clothing where you can see it. Have a friend hold you accountable. The more your goal is on your mind during the day the less likely it is to forget that goal.
Continue Learning about Setting Weight-Loss Goals