The Seattle Longitudinal Studies and MacArthur study which suggest that there is also a need for seniors to regularly engage social activity as it has revealed to increase cognitive functions and ward off the risk of developing Alzheimer's. Furthermore, those who maintain participation in a positive social environment can help ward off the risk of mental decline along with decrease the risk of depression. Additionally, social engagement even proved to contribute to the decrease in the risk of mortality.
Thus, the strength of an individual's social support network can contribute to the sustainability of the cognitive functions as it keeps the brain actively engaged. Essentially, being socially active can contribute to the increase in the quality and length of life.
Researchers in Australia followed senior citizens for 10 years. In people 70 years old and older, the risk of dying decreased by 20 percent when people had a strong network of friends. Having social interactions with friends provided a greater effect than interactions with family members. So while we children may think that we and the grandkids should be enough to keep Grandpa engaged, it's essential that seniors develop relationships outside of their family. Visiting with and walking a quiet, well behaved dog can be a great way to help seniors shift focus from their own concerns onto those of other two- and four-legged friends.
Older people who are more socially engaged also develop fewer memory problems. Reduced involvement with relatives and friends has been linked to having worsened memory. Fortunately, more social involvement has similarly been linked to a reduced rate of developing memory problems. In a study testing over 6000 seniors across about 5 1/2 years, seniors having frequent social engagement had a slower decline in intellectual and memory abilities. Good mental capacity was maintained best in those people who were the most socially active. So chatting with neighbors and friends today may help keep the brain sharp for years to come.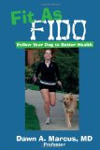 More About this Book
Fit As Fido: Follow Your Dog to Better Health
Let your dog teach you to live a happier, healthier, and more fulfilling life! Companionship with your pet can be used as a means and a motivator to increase your own physical and mental fitness....
Atria Senior Living and the International Longevity Center (ILC-USA) recently published the results of a six-month survey looking at satisfaction of seniors living in independent and assisted living communities. The study suggests that seniors in congregate living situations can experience greater subjective well-being in this type of setting. Keep in mind this was a small study of 28 people already living in an Atria community. Some might suggest this as being self-serving. After all, isn't the purpose to conclude that there are valuable reasons not to live at home and seek community living? Nonetheless...
Six items were tested to gauge well-being and life satisfaction among participants.
Satisfaction with Life
Positive Effect
Negative Effect
Mastery of Environment
Purpose in Life
Positive Relationships
Residents who participated in the study exhibited significant improvements between the first and second administrations of the study on four of the six measures, indicating a favorable assimilation into their senior living community.
While this was done for a senior living community nonetheless, I have uncovered numerous benefits in my research and writing. Most recently a study concluded that home-bound seniors had more liklihood of developing Alzheimer's Disease. Another study found that seniors who shop stay healthier. The physical activity and the social activity was cited as benefits.
The NYT's New Old Age column contrasted the lives of two people aging in place and wondered whether in at least one case if the person was better served in an assisted living facility.
What does this accomplish?
It creates an environment of personal and physical security.
It creates community.
It enhances quality of life.
In studies I cite in one of my keynotes, I point out that:
the American Journal of Psychiatric Health published a study that showed social support helps protect against dementia
the Journal of Pain published a study that showed social support reduces pain and depression
Social interaction for seniors is probably one of the true and tried and tested things that maintains people's cognitive and functional levels in the home. Across all cultures, lifestyles, and backgrounds, older adults want to remain in the community. They want to stay in their homes and they want to be surrounded by their friends and family. Social engagement is one of the most important aspects of growing older.
Continue Learning about Senior Health