Allergic reactions to fish and shellfish are commonly reported in both adults and children. It is generally recommended that people who have had an allergic reaction to one species of fish, or positive skin tests to fish, avoid all fish. The same rule applies to shellfish. Allergic reactions to fish and shellfish can be mild, with just itching skin; moderate, with some difficulty breathing; or severe, causing anaphylaxis. Individuals who are extremely allergic to fish or shellfish should avoid fish and seafood restaurants because of the risk of contamination in the food preparation area of their "nonfish" meal from a counter, spatula, fryer, or grill exposed to fish. In addition, fish protein can become airborne during cooking and cause an allergic reaction. Some individuals have had reactions from simply walking through a fish market or restaurant where fish is cooked.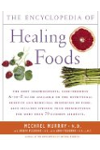 More About this Book
Encyclopedia of Healing Foods
From the bestselling authors of The Encyclopedia of Natural Medicine, the most comprehensive and practical guide available to the nutritional benefits and medicinal properties of virtually everything...
Continue Learning about Seafood Allergy