Exercising with sciatica can be beneficial, but may pose certain risks, especially for patients who are experiencing weakness. Learn more in this video with neurosurgeon John Soliman, DO from Medical Center of Trinity.
Sciatica is a condition that causes pain when your sciatic nerve gets irritated or squeezed. You often feel the pain in your lower back. Then, it spreads into the buttock or hip and down the back of the leg. Common causes of sciatica are disc disease and arthritis in the spine.

Running could make your symptoms worse. For example, if your nerve is irritated from arthritis, the bouncing and "loading" of the spine when you run could cause more irritation. But exercise, including running, could improve your symptoms. Running can help you lose weight, relax tight muscles and strengthen your back and abdominal muscles. This can ease your sciatica symptoms.

The way you run and the condition of your shoes can also affect your sciatica. For instance, it's harder to recover if you don't stretch, have poor posture or run in worn-out shoes.

So let your symptoms be your guide. Ask your doctor if he or she has any concerns with you running. If you get your doctor's OK, try running slowly and for a short time. If you're no worse, try going a bit faster or farther the next time. But don't increase your distance or speed too quickly. A good rule of thumb: Don't increase your distance and speed at the same time. And don't increase either your distance or your speed by more than 10% per week.

If you're used to running, starting slowly and building up to your old distance may be frustrating. But it's necessary. Going back to your old routine too soon could slow your recovery.

If you still have pain when running, a physical therapist can give you more guidance and treatment.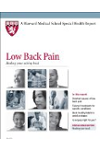 Continue Learning about Sciatica
Sciatica is when you have pain, weakness or tingling that radiates down your leg. It is usually caused by disc problems in your spinal column but can also be caused by other problems. The pain involved in sciatica can vary from a ...
mild tingling to severe, disabling pain. It usually occurs on one side. Because sciatica is a symptom, the cause of the problem needs to be discovered and treated. If you have severe sciatica, you may want to consult a neurologist, a doctor who specializes in the nervous system.
More