Measurements and referencing growth charts are a standard part of your child's regular doctor visits. Physicians use different charts for boys and girls because they develop differently. One chart is for infants aged 0-36 months. Another is for children aged 2-20 years old. These charts represent a range of weights and heights from children across the U.S.
I use these charts to make sure my small patients are developing at a normal rate. If they aren't, then I investigate further to make sure nothing is wrong. In fact, I track every patient's growth over time. That way I can see if he's following a consistent pattern or if he's fallen off the growth curve in any direction. Measurements include head circumference, length, and weight for infants. For older children they'll measure weight for height, height for age, weight for age, and body mass index, or BMI.
From Good Kids, Bad Habits: The RealAge Guide to Raising Healthy Children by Jennifer Trachtenberg.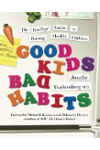 It is important for a doctor to chart your child's growth to make sure that your child is growing appropriately by height, weight, head circumference and body mass index (after the age of 2). If one or several of these growth measurers are not on track for your child's age, the doctor may recommend that your child have further tests to determine the cause of the abnormal growth.
Continue Learning about School Age Child Development