When evaluating your child's growth, don't just check the weight/height charts. You also want to pay attention to the following:
1. Not just the percentiles of your child's weight and length/stature but the relationship between them to prevent obesity or failure to thrive (under-weight).
2. It's important to put your child's growth in the context of both parents' heights. Between one-third and two-thirds of children change growth percentiles over the first two years of life, most frequently related to the height factors of both parents.
3. In general, children should not be losing weight; if they are, there needs to be a search for the cause. Conversely, control of present or pending obesity is usually managed by aiming for slowing the rate of weight gain while continuing the rate of growth of length/stature.
4. Keeping careful records can come in handy when a growth problem develops, as it usually needs to be put in the context of the child's growth history.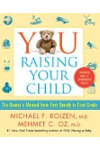 There are several factors that are considered when checking a child's growth. The most common, depending on your child's age, are height, weight, body mass index and head circumference. Children's growth is plotted on a growth curve (check out the Centers for Disease Control and Prevention website for the most commonly used growth curves in the United States). The doctor will check that your child is staying on his or her "own" growth curve and is not deviating too much in any one direction. The doctor will also make sure that the child's growth rate is not very much above or below the growth rate of an average child of the same age.
Continue Learning about School Age Child Development