Learning happens quickly during this stage. Before you know it, your child will have mastered multiplication and long division, and will be writing book reports and research papers. This is a great time for your child to learn accountability and responsibility when it comes to his work habits. Give your child a planner to write down assignments and help him manage his time. These organizational skills will prove to be of great benefit in the years ahead.
Communication and language skills include:
Masters all speech sounds, including consonant blends
Appropriately controls rate, pitch, and volume of speech
Uses complex and compound sentences easily
Consistently uses correct grammar, including tense, pronouns, plurals
Reads with considerable ease
Writes simple compositions
Able to carry on complex conversations
Follows fairly complex directions with little need for repetition
Cognitive and intellectual skills include:
Has well developed understanding of time and number concepts
Thinks about things in a more organized and logical manor
Is capable of concrete problem solving
Can think through his/her actions and trace back to events that happened in order to explain situations
Can talk through problems in order to solve them
Can focus attention and take time to search for necessary information.
Can develop a plan to meet a goal
Has increased memory capability
From Good Kids, Bad Habits: The RealAge Guide to Raising Healthy Children by Jennifer Trachtenberg.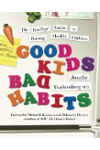 Continue Learning about School Age Child Development