The best place for your child to do homework depends largely on her particular work style. Granted, some kids have trouble concentrating with even the slightest distraction—a baby sister playing in the same room, for example—and these kids should have a quiet place to work. For most kids, however, the best place to do homework is at a kitchen or dining table, where they can interact with you or other family members and easily ask for help if they need it. This arrangement is useful for you as well, because it makes it easier to stay attuned and involved in what your child is learning and enables you to recognize your child's strengths and weaknesses in different subjects.
Of course, if your child is more comfortable sprawling on the floor or sitting at the coffee table to do his work, by all means, allow it. Having a regular place to do homework will assist your child in establishing great homework habits early on, an essential contributing factor to overall success at school.
Help your child by having supplies readily available. Being organized will cut down on time spent looking for a glue stick or a pen that still has ink, leaving the focus where it belongs: on homework.
Stock a desk or bookshelf with supplies that your child will need to complete a variety of homework assignments throughout the year. Restock as supplies run low—unless you enjoy running to the store just before it closes, hoping you can find what you need. Here are a few suggestions:
Paper: notebook, graph, construction, tracing, computer
Glue and glue sticks
Tape
Pens, pencils, crayons
Scissors
Hole punch
Calculator
Rulers
Report folders
Poster board
From Good Kids, Bad Habits: The RealAge Guide to Raising Healthy Children by Jennifer Trachtenberg.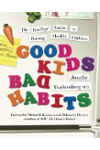 Continue Learning about School Age Child Development