The following secrets from my book, The Big Book of Parenting Solutions: 101 Answers to Your Everyday Challenges and Wildest Worries (Jossey Bass), show ways parents can teach their children how to rebound from mistakes.
Create a "Stick to It" award. Ask your children to find a thick stick on a hike at least the length of a ruler. Print "Stick to It Award" across the stick with a black marking pen. Explain that it means "hanging in there and not giving up until you finish what you started." Then tell your family to be on alert the next few weeks for other family members showing special "stick-to-itness" and report them to you. Each evening announce the names, and print their initials on the stick. Make sure to tell the recipients what they did to deserve the award. You might even have a contest to see how long it takes to fill the stick with your children's initials.
Help children see mistakes as opportunities. I watched a teacher give a piece of rug yarn to each student on the first school day. She said, "This year you'll be making lots of mistakes. That's how you learn." She explained that she wouldn't be watching their mistakes, but instead to see if they learned from them. Each time they made a mistake and bounced back, they were to tie a knot in the yarn. After each knot she'd ask them to explain what they learned from their mistake. Her technique helped her class recognize that mistakes can be a chance to start again, and it's an essential part of learning to rebound. You might try this idea with your family.
Offer support only when needed. No parent wants their children to suffer disappointments, and often our first instinct is to try to remedy their mistakes for them. Doing so deprives them of chances to find solutions and rebound from defeat. So offer help only when really needed, and convey confidence in their abilities to succeed. You might say, "I know you can do it. Hang in there." Of course, when your son or daughter finds the task too difficult and quits, support them. Then help them recognize what they could do the next time so they do succeed.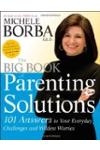 Continue Learning about School Age Child Development