Here a simple secret to help kids calm down and control their anger called, 1 + 3 + 10.
First print the formula a large piece of paper and hang it. Then teach it to your child.
"As soon as you feel your body start to lose control, do three things":
First, stop and tell yourself, 'Be calm.' That's 1.
Second, take three deep, slow breaths from your tummy. That's 3.
Now count slowly to ten inside your head. That's 10.
Put them all together, it's 1 + 3 + 10 and doing it helps you calm down.
Then practice it again and again as a family until your kids can use the formula without you.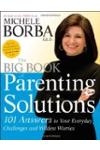 Continue Learning about School Age Child Development