Your children count on you to help them make connections between things that are new to them and what they already know. Make yourself available for questions during homework time, helping to direct their attention, supporting their attempts at something new, and helping reshape information to fit your child's level of understanding.
Chop it up. Break large projects down into smaller, more manageable components.
Go easy. Start off with the easy stuff, when your child is fresh. If they start with the most difficult, they may be too tired or upset to complete the assignments that are a breeze.
Let them do it. Don't give the answers—help them find the answers.
Prioritize. Ask your child to determine what they can do, and what they need help with. His success with one task may lead to the realization he doesn't need your help after all.
Get organized. Teach your child how to manage his time. Use a notebook or calendar that allows him to track assignments and due dates.
Buddy up. Set up study groups or exchange phone numbers with a study buddy. Encourage older children to tutor younger siblings, or help in some way: quiz on a spelling list, put together a diorama, use multiplication flashcards.
From Good Kids, Bad Habits: The RealAge Guide to Raising Healthy Children by Jennifer Trachtenberg.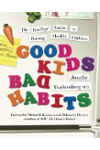 Continue Learning about School Age Child Development