Here are simple secrets to solve frantic mornings and get your kids off to school more positively.
Encourage kids to place their backpacks, lunch money, sharing at the front door before going to bed.
Morning dawdlers can put out school clothes at night.
Buy simple-to use alarm clocks and teach your kids how to set them. It will cut down on the number of times you have to be Big Ben.
Store up energy breakfast bars and juice boxes just in case your child misses eating most important meal of the day.
Hang up a white board to manage frantic schedules. Each child can list his music lessons, spelling test, sharing days, or practices using a different color pen.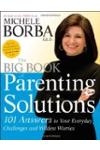 Continue Learning about School Age Child Development