I have 3 questions you can ask yourself to ensure your parenting expectations are right for your kids.

1. First: Is my child developmentally ready for the task? Always start at the level your child is capable.
2. Second: Is my expectation reasonable? Too difficult a task lowers a child's confidence.
3. Third: Is my expectation set to my child's unique strengths and interests or what I hope for?

Your goal is to set your expectations of they gently stretch your child like a rubber band without snapping his spirit. That way your child knows you love him for who he is and not for what you want him to become.

Whatever you try remember to consistently use the method until you do get the change you want.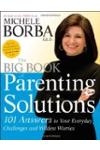 Continue Learning about School Age Child Development