Saw palmetto inhibits the influence of a male hormone on prostate tissue. The main effect of saw palmetto, as an extract of the fat-soluble berry substances, is to reduce some of the effects of the hormones responsible for male characteristics (i.e., androgenic hormones). It is these hormones that cause benign prostatic hyperplasia (BPH), a noncancerous enlargement of the prostate gland..

Saw palmetto extract can reduce the conversion of the male hormone testosterone to the more active dihydrotestosterone (DHT). The more potent DHT appears to increase the growth rate of benign prostate cells, although the reason for this effect is unclear.
Saw palmetto has become a common herbal treatment for benign prostatic hypertrophy or enlarged prostate by relieving the main symptom of frequent urination. It is available over-the-counter at most grocery or drugstores and can be taken as capsules, tincture, and fresh or dried berries.
Studies confirm that when taken regularly, this herbal treatment for enlarged prostate may help. It also appears to have no dangerous side effects as other prostate medications do.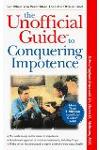 More About this Book
Unofficial Guide to Impotence
The Unofficial Guide to Conquering Impotence delivers the inside scoop on impotence: the truth about Viagra, what treatments really work, and how lifestyle changes can aid in conquering...
Continue Learning about Saw Palmetto