Since seat belt laws were introduced, the death rate and number of serious injuries have decreased significantly. You should always wear your seat belt.
Because seat belts have a proven safety record, most states now require that you wear one whenever you are riding in a car. Strap on a seat belt every time you get in a moving vehicle, whether it's your car, a cab, or anything else with wheels. (Don't think you need to use a seat belt in a cab or limousine? Just remember what happened to Princess Diana. I'm awfully glad it's mandatory in New York for cabs to have seat belts in working order. Although it's sometimes difficult to get them on, I routinely do it because it keeps me safe.) Wear a seat belt even if you are sitting in the back seat, and make sure that all belts have both a lap and shoulder harness.

Keep all seat belts in good working condition. If you have an older car, make sure the belts are up to standard, even if it means replacing the old ones. If you are under 5 feet 2 inches tall, have a small frame, or have children who regularly ride in the car, check to make sure the shoulder harnesses fit properly. If they don't, go to a service dealer and have them adjusted. Don't deliberately slip out of the shoulder strap, either. The shoulder strap significantly reduces the amount of internal organ damage that would occur if you were in an auto accident.

Almost all of the deaths among adults have involved people who were not wearing seat belts.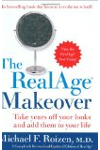 Continue Learning about Safety & Preparedness