Head injuries in children can be very serious and lead to long-term problems and disabilities. It is recommended that everyone wear a helmet when riding a bicycle, scooter, motorbike, ATV, or other wheeled (non-car or -truck) vehicle, regardless of age.
Because more childhood injuries are associated with bicycles than with any other consumer product except automobiles, wearing a helmet while bike riding should be non-negotiable. Sixty percent of serious bicycle-related injuries are head injuries.
Bicycling isn't the only activity in which your child needs to strap on a helmet. The head is vulnerable to injury during many sports: skateboarding, skiing, ice skating, and rollerblading to name a few. A crash or spill at even a low speed can change your child's life forever if he hits his head on the street, sidewalk, curb, a car, tree, or anything else around him. It's been shown that a fall of only 2 feet can cause a skull fracture or brain injury.
From Good Kids, Bad Habits: The RealAge Guide to Raising Healthy Children by Jennifer Trachtenberg.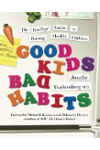 Continue Learning about Safety & Preparedness